P-TECH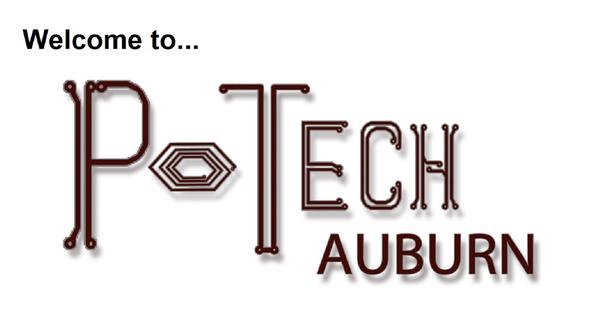 Jonathan Roberts
Director of P-TECH Auburn
Phone: (315) 255-8770
Did you know you can graduate from high school with a New York State Regents diploma AND an Associate's Degree from Cayuga Community College?
P-TECH AUBURN is a "Grade 9-14" academic and career-oriented program that combines high school with a college and professional, work-based learning experience.
The
P-TECH AUBURN
program will provide students with an advanced education including work-based opportunities that will prepare them for jobs in the Electrical and Mechanical Technologies Industry – an industry leading to a financially successful career in an ever-changing global economy!
How does

P-TECH Auburn

work?
Students will be matched with a business mentor, take college classes, and gain professional work experience during their high school years.
P-TECH students will have opportunities to be involved in sports, music, and other extracurricular activities offered in a traditional high school setting, along with strong college and career preparation. Upon completion of the 5 or 6-year program, the students will be considered first in line for jobs at local companies.
P-TECH AUBURN classes are held at Auburn High School. As students progress in the program, they'll take courses on the CCC campus and intern at area businesses.
For more information, check out our FAQ's (below the P-TECH photo gallery), or visit
www.ptech.org
.
---
Frequently Asked Questions
What is P-TECH Auburn?
P-TECH AUBURN is a six-year early college career and technical education program. P-TECH Auburn students begin their college and professional lives more quickly and with more support than they would following more traditional pathways. They enter this intensive program in ninth grade and graduate with an associate's degree from Cayuga Community College. Graduates will be college and career ready and prepared with high-level skills in manufacturing and engineering.
How does it work?
P-TECH Auburn combines the best elements of high school, college and work-based learning to provide students with a real-world, project-based curriculum. Starting in ninth grade, students engage in a rigorous dual-enrollment course sequence in science, math, career development and essential 21st century skills, such as problem solving and critical thinking. By the end of the fourth year they will have completed all the coursework necessary to earn a high school regents diploma. By the end of year six they will have all the requirements to earn an Associate's Degree in Applied Science (AAS). Throughout the P-TECH program, students will embark on career exploration through a variety of work experiences.
Which students can apply for this program?
The program is open to incoming ninth-graders who are eager and committed to acquire the skills necessary to earn a college degree and to compete in a highly competitive work force. P-TECH Auburn serves students from diverse and dynamic communities who are willing to commit themselves to a rigorous academic and career-readiness program. Though no test is required for admission, only 25 students will be admitted each year, so early application is recommended.
Can you explain the academic portion of the program?
The curriculum is comprised of a course sequence in the STEM disciplines (Science, Technology, Engineering and Math). The curriculum is fully aligned with Next Generation technology standards and the New York State Common Core Learning Standards. Teachers use technology rich instructional tools and data systems in their advanced instruction. Students will meet all the requirements necessary to earn a High School Regent's Diploma and an Associate's Degree in Applied Science.
Will there be additional support to students who need it?
P-TECH Auburn provides a wide variety of academic support programs including summer academies, online lessons and afterschool instruction.
Is P-TECH Auburn a full-time program?
This intensive six-year program meets all the requirements of high school and a two-year college. Students will attend a full day of classes as they would in a standard high school program.
How does the work-based learning component work?
Students will engage in a wide variety of real-world work experiences including visits to and from industry experts, internships, shadow days, coaching and mentoring, and part-time employment. P-TECH Auburn is aligned with major industry partners including the Manufacturers Association of Central New York (MACNY), Currier Plastics and Bo-Mer Plastics, to name a few. Upon graduation, students will be prepared and will be given priority consideration to enter a lucrative career in those manufacturing or engineering fields.
How can students apply?
Any Auburn students currently in 8th grade should discuss this opportunity with their guidance counselor if they are interested.
What does it cost?
P-TECH Auburn is fully funded through the P-TECH Auburn grant from the New York State governor's office and is completely free of cost for students, their families and their home school districts — there are no tuition charges.
When does it start?
We are currently in our fifth year of the P-TECH program. Our first class of P-TECH Auburn students, the Class of 2019, began in September 2015. Subsequent classes will begin in September of the new school year.