Auburn High School celebrates top Class of 2022 students at Excellence in Education Dinner & Award Ceremony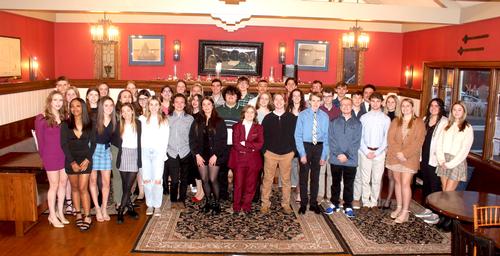 In March, Auburn High School celebrated the members of the Class of 2022 whose four-year overall averages are 95 and above at our annual Excellence in Education Dinner and Award Ceremony at the Springside Inn. In addition to their academic accolades, these outstanding students are also heavily involved in athletics, music, volunteer work, and school clubs and activities.

Congratulations to these distinguished students and their families!
Auburn High School's Class of 2022 | Excellence in Education

---

Nicholas Bachman
Gracie Barraque
Natalee Bello-Woodcock
Madelyn Bona
Matthew Bouley
Erin Calkins
Anthony Camardo
Colby Church
Breannah Connors
Morgan Cook
James Cuddy
Cameron Daddabbo
Ellie Dann
Isabella DiLallo
Kevin Dolan
Matthew Faynor
Sarah Fritz
Connor Gasper
Sofia Granato
Elizabeth Graney
Maia Guzalak
James Hunter
Hanna Hutchinson
Kate Izzo
Ida Kavanagh
Jack Kennedy
Jocelyn LaFrance
Sydney Marinelli
Kiearalyn Mathis
Emily McLaughlin
Alec McQueeney
Rachel Meyer
Owen Middleton
Benjamin Porten
Colleen Reilly
Iris Rodriguez
Arietta Scozzari
Jackson Siddall
Ryan Stechuchak
Michael Villano III
Zarya White
Bryn Whitman