Hall of Fame
Download an Application Form for the Hall of Fame: Click Here
Our Annual Hall of Fame Dinner will be held on the first Saturday of November at Springside Inn.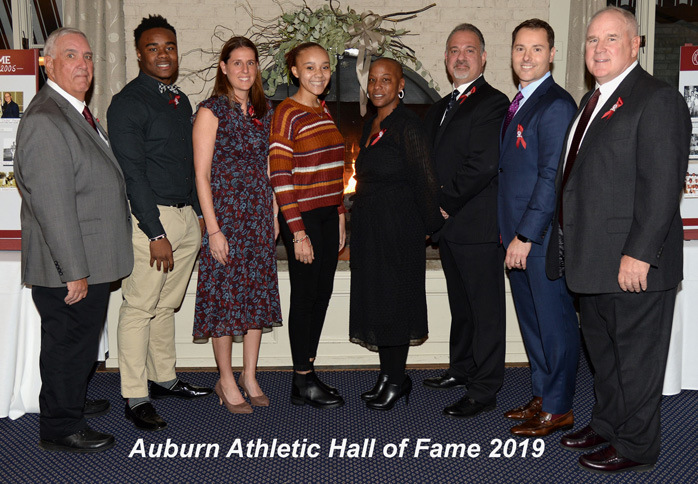 The Auburn High School Athletic Hall of Fame committee announced the new members of the 2019 Class of Inductees. Left to right: Angelo Messina (Honorary), Leigh Aziz-Morgan representative (1997 Athlete), Meghan Burnett (1999 Athlete), David Carter representative (1955 Athlete), Phredi Griffin (1991 Athlete), Nicholas Guerrera representative (Honorary), David Rabuano (1996 Athlete), and Jeffrey Cole (1973 Athlete).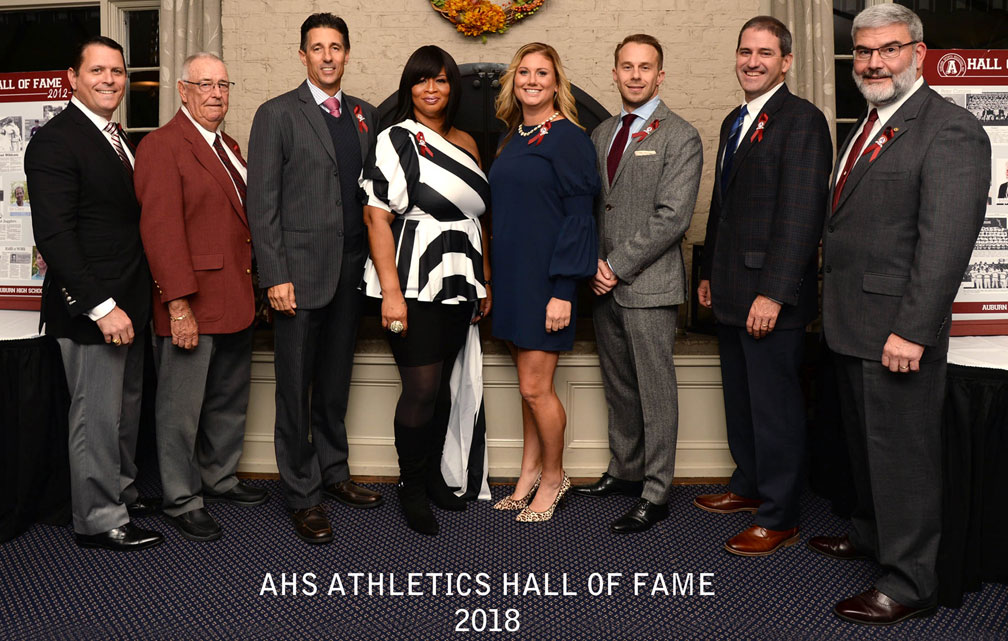 Auburn honored athletes at the 18th Annual AHS Athletic Hall of Fame Awards Banquet held on Saturday, November 3, 2018. Pictured are members of the 2018 Class. L-R: Chris Prentice, Jim Cranfield, David Picciano, Tia Marie Gilliam, Meghan Bishop, Ryan Blair, Peter Jones (representing Coach Dick Jones), and Jon Frederick. Congratulations to all of these very deserving inductees. The Auburn Athletic tradition continues!
AUBURN HIGH SCHOOL ATHLETIC HALL OF FAME
INDUCTEES

YEAR

NAME

CATEGORY

2001

Adams, Bob *

Coach

Atkinson, Jim

Athlete

Dean, Bob *

Coach

Hardeman, Buddy

Athlete

Holland, Jerome *

Athlete

Kleiber, Doug

Athlete

Lacey, Betty *

Coach

Smith, Leroy *

Athlete

Stenard (Mars), Joan

Athlete

VanGeisen, Ray *

Athlete

2002

Cunliffe, Sue

Athlete

Currier, Bob *

Athlete

Huther, Joe *

Honorary

Huther, Bill

Athlete

King, Ormie

Athlete

Miller, Ron *

Athlete

Nangle, Dave

Athlete

OíBrien (Tarby), Pearl *

Athlete

Oliver, Bernard *

Athlete

Pinckney, Leo *

Honorary

Richardson, Burt *

Athlete

Williams, Dick

Athlete

Young, William "Ki"

Coach

2003

Alberici, Gino

Athlete

Case, Bill

Honorary

Crosby, Dave *

Athlete

Dudek, Helen

Athlete

Dunster, Jim

Athlete

Fiore, Mary Beth

Athlete

Graney, Jack

Athlete

Harding, Sandy

Athlete

Kleiber, Paul

Coach

Marchitello, Vince *

Athlete

McGuire, Jim *

Athlete

Pfeifer, Fred *

Athlete

Richardson, Fred

Athlete

Williams, C.L. *

Coach

2004

Button, Harold *

Coach

Clifford, Jack *

Coach

DelPiano, Paul

Honorary

Garuccio, Joanne

Athlete

King, Richard *

Athlete

LoCastro, Anthony *

Athlete

Monroe, Clyde

Athlete

Montgomery, Ruth *

Coach

Mushock, Joe

Coach

Richardson, Howard

Athlete

Ringwood, Paul *

Athlete

Valentino, Pat *

Athlete

2005

Blatz, Edwin *

Coach

Connor, Robert

Athlete

DeFelice, Edward

Honorary

Gallager, Robert

Athlete

Lowery, William *

Athlete

Matthews, Leon

Athlete

Nicholas, Albert *

Athlete

Pagano, Mike

Athlete

Walsh, John (Adam) *

Athlete

Wojnar, Robert

Athlete

2006

Bove, John *

Athlete

Bushallow, Denise

Athlete

Copes, Chet

Athlete

Emmi, Alfred

Athlete

Gentile, "Missy" Mary

Athlete

Hansinger, Rick

Honorary

Kuncio, David

Athlete

Martino, Dana

Athlete

Sobus, Joe

Athlete

Vetter, Hank *

Honorary

2007

Alberici, John

Athlete

Blair, Tom

Athlete

Calimeri, Robert

Coach

Cogar, John

Athlete

Crawford, Donald *

Honorary

Husak, William

Athlete

Krause, Edward

Athlete

LaDouce, Charles

Athlete

Leone, Thomas *

Athlete

Mazola, John *

Athlete

McIntosh, Benny

Athlete

2008

Alberici, Joseph

Athlete

Court, Lynn Faynor

Athlete

Curtin, William J.*

Athlete

DelPiano, Marc

Athlete

Ganey, Thomas

Coach

Herbert, Thomas, "TR"*

Athlete

Locastro, Richard *

Athlete

Lombardo, Michael*

Athlete

McGrath, Jim "Duke"

Athlete

Post, Dale*

Athlete

2009

Belluso, Joe*

Athlete

Holmes, Terri

Athlete

Kappessor, Robert

Athlete

Polcovich, Kevin

Athlete

Poole, Tracy Lynn

Athlete

Savage, Charles*

Honorary

Secaur, Jerry

Athlete

Simon, Tom

Athlete

2010

Bobinis, Joseph

Athlete

Diehl, George

Athlete

Gamba, T.J.

Athlete

Kroker, Anthony

Athlete

McIsaac, George

Athlete

Rice, David

Athlete

Walsh (Weaver), Jenny

Athlete

2011

Clifford, John *

Athlete

Brandstetter, Don

Athlete

Catto, William

Athlete

Crosby, Chester

Athlete

McGuire (Sylcox), Bonnie

Athlete

Daly, Michele

Athlete

Gleason, Richard

Athlete

Roe (OíGrady), Kathy

Athlete

2012

Clary, James

Athlete

Curry, Eric

Athlete

Dziedzic, John

Athlete

Floyd (Cowen), Stacy

Athlete

Impaglia, Robert

Athlete

Lowe, Michael

Athlete

Napoli, Thomas

Athlete

2013

Corning, Peter

Athlete

Hyle, Jr., Theodore

Athlete

Herbert, Sean

Athlete

Winslow, Terry

Athlete

Yost, Paulette (Kierst)

Athlete

Pabis, Joseph (JD)

Honorary

Scanlan, John

Honorary

2014

Alberici, Jason

Athlete

Bashta, Nick

Athlete

Lewis, Donald

Athlete

LoCastro, Tony

Coach

Painter, Michael

Athlete

Wilson, Allan

Coach

Wineburg, Ben

Athlete

2015

Thomas Herbert

Athlete

John Herrling

Athlete

George Iocolano

Athlete

John Lombardo

Athlete

William Smith

Athlete

John Snow

Athlete

Robert Socci

Athlete

Jared Tuxill

Athlete

*Deceased

2016

Thomas Butcher

Coach

Andra (Wilcox) Case

Athlete

Scott Clifford

Athlete

Willam James Drancsak

Athlete

Willie Henry Humphrey

Athlete

Judson Paul Lattimore

Athlete

Carey (Janis) McCord

Athlete

Lou Pelton

Athlete

Patrick Picciano

Athlete

2017

Julie Angelia Rosga

Athlete

Charles Alte

Athlete

Missy Coleman Finley

Athlete

Jim Kleiber

Athlete

Melanie Kulis Maher

Athlete

Thomas McCants

Athlete

Bill Picciano

Athlete

Walter Fuss

Athlete

Bill Sroka

Athlete
2018
Meghan Bishop
Athlete
Ryan Blair
Athlete
Jim Cranfield
Athlete
Jon Frederick
Athlete
Tia Maria Gilliam
Athlete
David Picciano
Athlete
Chris Prentice
Athlete
Dick Jones
Coach
2019
Leigh Aziz-Morgan
Athlete
Meghan Burnett
Athlete
David Carter
Athlete
Jeffrey Cole
Athlete
Phredi Griffin
Athlete
David Rabuano
Athlete
Nicholas Guerrera
Coach
Angelo Messina
Honorary