Auburn High School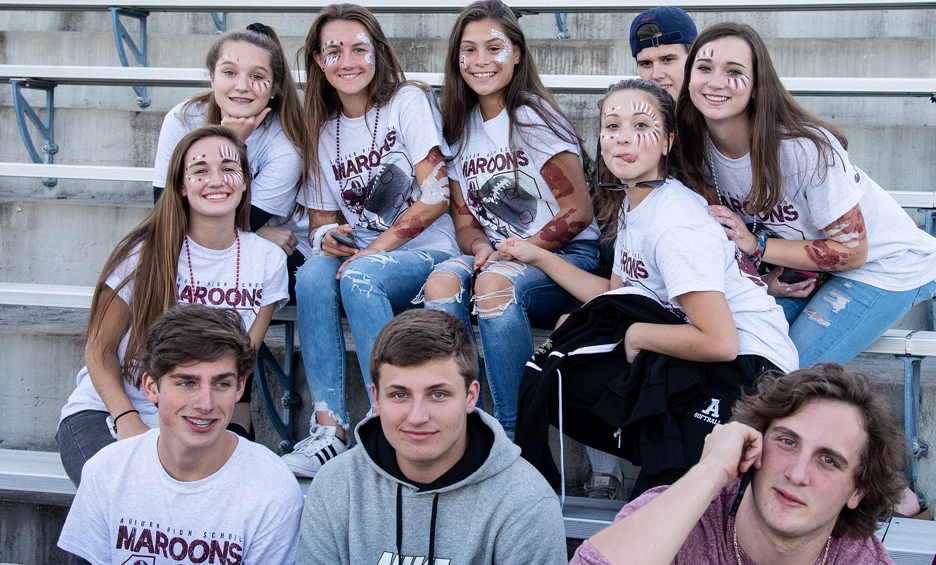 ---
---
Announcements
Upcoming College Visits - Fall 2018
Tuesday, October 30: SUNY Canton at 12:30 p.m.
Wednesday, November 7: Finger Lakes Community College at 9 a.m.
Friday, November 9: SUNY New Paltz at 9:30 a.m.
Tuesday, November 13: Alfred State at 10:15 a.m.
Thursday, November 15: SUNY Geneseo at 11:40 a.m.

These visits are held in the Counseling Office – room D307. Please see Mrs. Sheridan in the Counseling Office for a pass to any of these visits!
Links
Downloads
School News
Outstanding achievements happening in Auburn schools:

Lucky the Robot displays Auburn Enlarged City School District Superintendent Jeff Pirozzolo's face on an iPad screen. (November 14, 2018) - There have been some outstanding things happening throughout the Auburn Enlarged City School District lately. This year, the district has teamed up with representatives from Lindamood-Bell Learning Processes to expand the Seeing Stars© program, providing an innovative way to further our students reading fluency skills. ...

more >>
Auburn High School announces Valedictorian and Salutatorian for the Class of 2019:

(November 6, 2018) - Auburn High School has announced the valedictorian and salutatorian for the Class of 2019. Zachary Moore earned the distinction of valedictorian and is a member of several clubs and activities including the National Honor Society, SADD Club, Z-Club, and the Varsity Tennis team. Matthew Bergan is the salutatorian and is also a member of several clubs including the National Honor Society, FBLA, Varsity Club, and the Varsity Baseball team. The district ...

more >>
Two Auburn teachers accepted into NYS Master Teacher Program:

Aaron Williams and Div Patel work in the lab as Chemistry teacher Prin Furst looks on. by Jessica Luisi, Public Information Specialist (November 5, 2018) – In October, New York State accepted 275 master teachers into the New York State Master Teacher Program, and two Auburn teachers, Matthew Drastal and Prin Furst, were among those selected. The New York State Master Teacher Program (NYSMTP) began in 2013 as a way to identify and support teachers who teach STEM (science, ...

more >>
School Board Recognition Week, October 22-26:

(October 21, 2018) - The New York State School Boards Association recognizes October 22-26 as School Board Recognition Week. This is a great time to promote awareness and understanding of the important work performed by school board members. Auburn Enlarged City School District is celebrating School Board Recognition Week to honor our school board members for their commitment to the school district and its students, staff, and community. The members serving the Auburn Enlarged ...

more >>
View more stories >>