Anonymous Alerts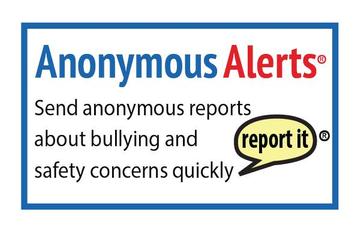 The Auburn Enlarged City School District partners with Anonymous Alerts®, an anti-bullying and safety reporting app and system, to enhance student safety. This communication tool serves as a way for students to anonymously, quickly and easily report sensitive concerns to school officials.
The goal of Anonymous Alerts is to help maintain a safe school climate while giving students ample opportunity to securely communicate with school administrators without fear of retribution by their peers. All submitted reports remain completely anonymous unless the user chooses to reveal their identity. Submitters can also attach a photo, video or screenshot with their report to provide more information to school officials.
Types of concerns that can be reported through Anonymous Alerts include, but are not limited to:
Bullying / cyberbullying
Harassment
Drug and alcohol abuse
Fighting
Weapons
Threats
Family difficulties
Self-harm
Student depression
Abnormal student behavior
Students, parents and staff members may use the service through the "Report It" button at the top of our website,
www.aecsd.education
, or by downloading the free Anonymous Alerts app. School administrators monitor the program from 8 a.m. to 3 p.m. on school days.
The most important thing to remember is:
See something, do something!