Four Auburn teachers selected for Noyce Master Teaching Fellowship program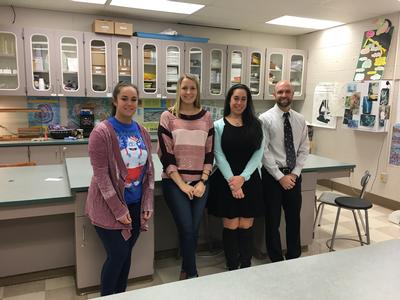 (January 25, 2019) – Four Auburn teachers have been selected to take part in the Noyce Master Teaching Fellowship program through the Warner School of Education at the University of Rochester. Owasco Elementary librarian Victoria Calarco, high school science teachers Christina Calarco and Patrick Crawford, and high school math teacher Kelley Horbal were all chosen to be a part of this prestigious program.

The Noyce Master Teaching Fellowship program is a 5-year program designed to serve 20 K-12 mathematics and science teachers. Selected Fellows will engage in a combination of post-Master's coursework and mentored practice to increase their knowledge and skills in digitally rich STEM content, pedagogy, assessments, leadership, and professional development so they can serve as models, professional development providers and instructional leaders for their district within a context of digitally rich teaching and learning in math and science.

During the first two years of the program, the fellows will focus on STEM learning in teaching, which in the third year, the focus moves to STEM coaching. In year four, the focus is on STEM professional learning, and the program rounds out year five with focusing on STEM and reform efforts.

"We are honored to have such talented teachers," said Jeff Pirozzolo, Superintendent of Schools. "These four in particular work extremely hard, and we are proud to have them in our district."

Congratulations, Fellows!