Owasco Elementary donates over 170 pairs of pajamas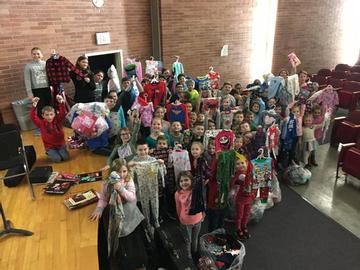 (December 18, 2018) – Over 100 students at Owasco Elementary collected over 170 pairs of pajamas to be donated to the Cayuga/Seneca Community Action Agency as part of a holiday giving project tied to Scholastic's Great Bedtime Story Pajama Drive. For every new pair of pajamas collected, Scholastic donates a book to go along with them. The program provides new books and new pajamas to children in need, many of whom are waiting and hoping to be adopted.

This giveaway project started at Owasco in 2016 with just fifth grade students participating. In 2016 and 2017, fifth grade students collected between 65-75 pairs of pajamas each year. This year, the entire school joined in on the endeavor, which allowed students to collect almost triple the number of pajamas for the project, providing that many more children in need with new pajamas and a brand new book.